Hanoi Walking Street is the walkways around the Hoan Kiem Lake reserved for pedestrians on the weekends. This space, first opened in 2016 for promoting the Vietnamese culture purpose. It is an extraordinary place for both the local and tourists garthering to chill out and enjoy their relaxing time after daylife.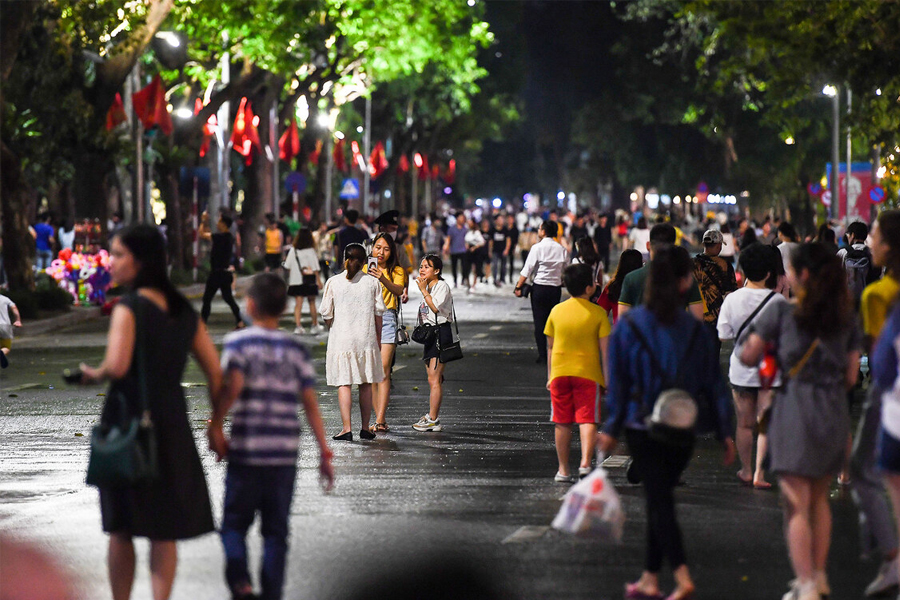 Venue: Around Hoan Kiem Lake.
Opening hours: From 19:00 Friday to 24:00 Sunday weekly.
Entrance fee: It's free.
It's one of the best Hanoi attractive destinations
Beginning at 19:00 on Fridays and stretching into the late hours of Sunday evening, the Hoan Kiem Lake area of the walking street draws the thousands of visitors each weekend. In order to distribute people in the walking street, Hanoi People's Committee has established 78 parking spots with 17,380 m2 in total with a capacity of thousands of vehicles at the same time.
Offering free wifi
Hanoi's authority provides free wireless Internet (wifi) signals along pedestrian streets around Hoan Kiem Lake and adjacent areas aiming to meet the demand of being connected online of local citizens and tourists. To access this free wifi system, residents and visitors can access free wifi from a smartphone or handheld device on the network called "Freewifi_UBNDHANOI". It is available for 30 minutes of using . Timeout on wifi will automatically break, you just access again and continue to use.
It's dedicated to cultural and service activities
Cultures from cities and provinces nationwide will be brought together in the Hanoi walking street around Hoan Kiem Lake, in an effort to diversify cultural activities, enhance cultural exchanges between the capital and other localities as well. There are various street activities, from music and street dancing, games to endless food counters and cafes are scattered around this most enormous walking area of the capital city. Whatever you like, chances are this place has something to offer you.
Street Music Live Performances
Going down the streets, you can easily see groups of performers with different genres and music styles. You can have a mixed bowl of everything, from vibrant Latin American to contemporary Vietnamese music, Vietnamese traditional art forms such as Ca Tru, Cheo, Hat Xam to even orchestral one. This is a fantastic way for both the local and foreigners to discover and experience the traditional folk music of Vietnam without spending money.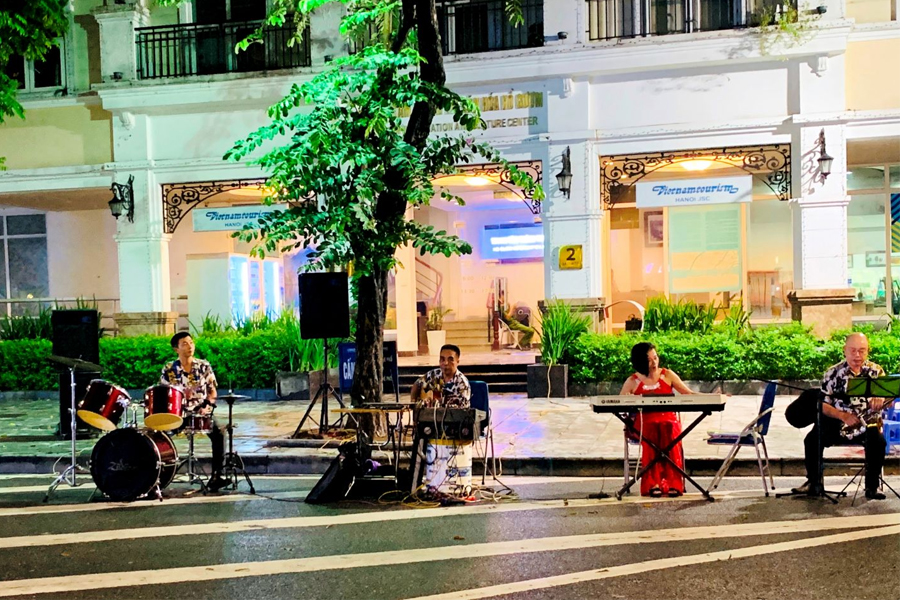 Vietnamese Folk Games
Perhaps folk games are the most interesting things about Hanoi Walking Street because there is no modern technology available, it is attractive visitors by traditional Vietnamese games. At every corner around the lake, you will see groups of locals playing tug of war, play or kickball, team skipping, ect. These folk games in walking street not only bring an exciting and unforgettable experience but also the role of bridging and connecting people together, which bring tourists back to the childhood innocence without worry or all-purpose daily life.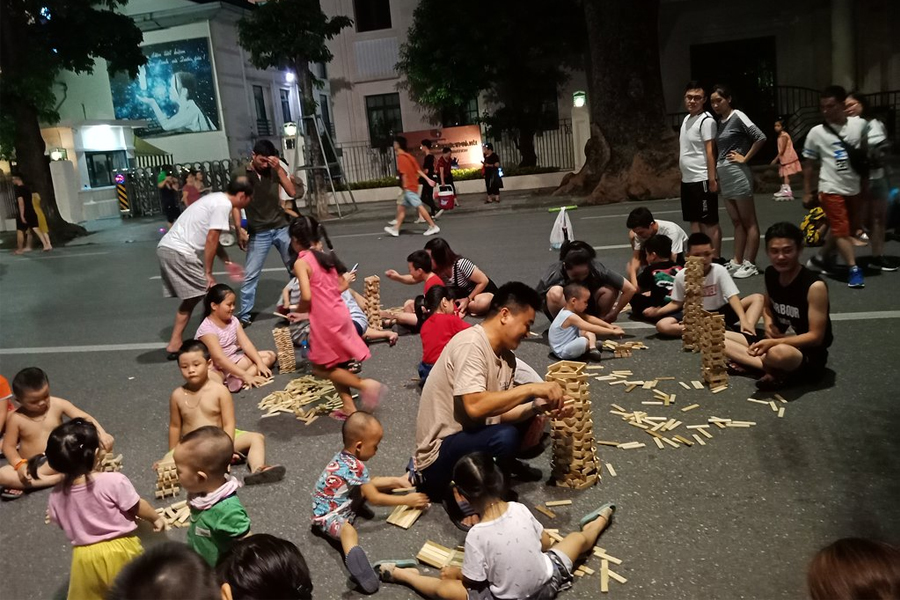 Portrait Drawing
Close to the banks of Hoan Kiem Lake, it is not difficult to get a portrait of yourself by skillful street artists here. It will only take around 20 minutes to half an hour to finish sketching a portrait. When sitting as a model, the painters can tell you a lot of interesting stories from the soulful artists.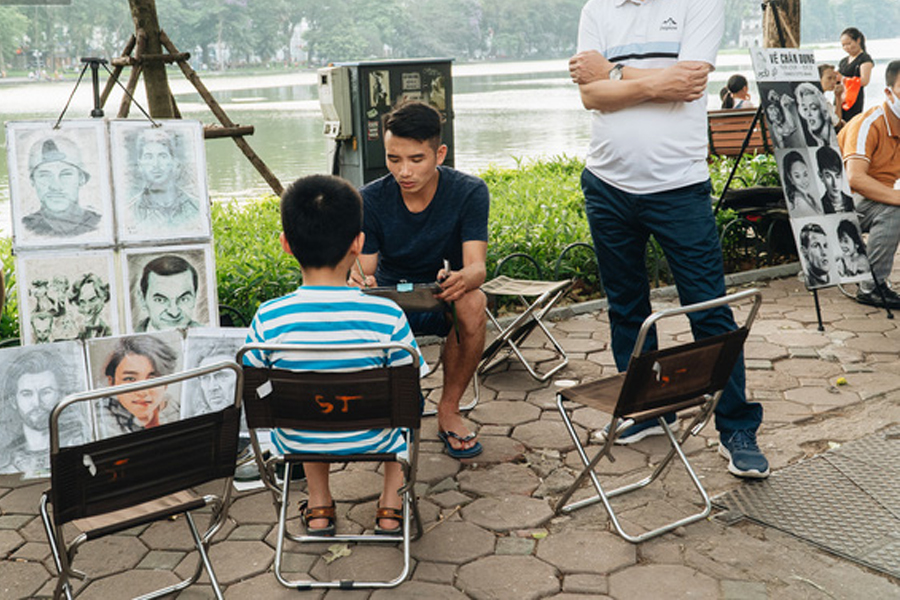 Travel-note: If you want to be in good hands, come to 47 Hang Ngang – the shop of a 60-year experience artist, Mr. Bao Nguyen. Price range: 100,000 – 150,000 VNĐ.
Shopping
Hanoi Night Market is alively market held as the same time as Hanoi Walking Street. It connects Hang Dao, Hang Ngang, Hang Duong and Dong Xuan market. You can have pretty cheap goods from over 3000 stalls of numerous small traders here from clothes, shoes, watches, jewelry, souvenirs.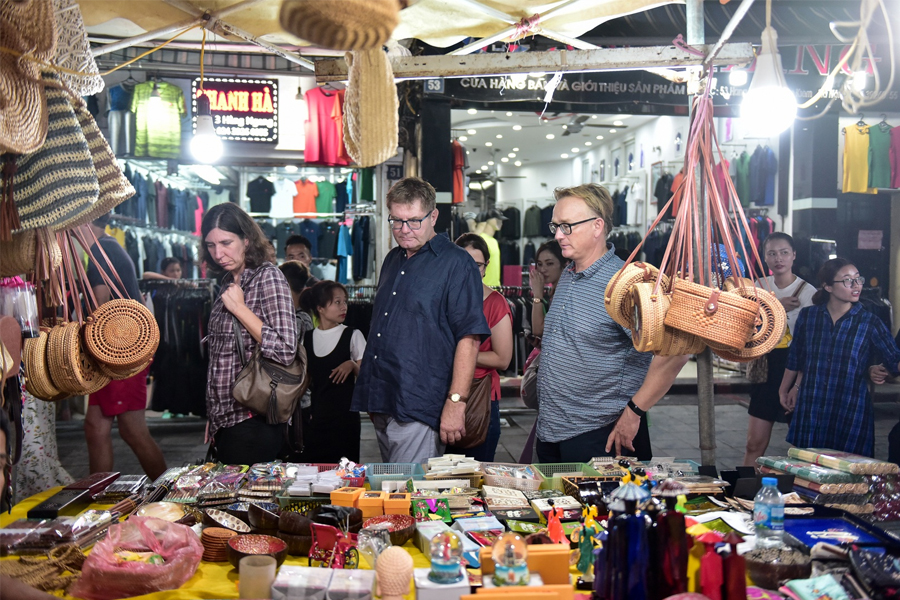 Travel-note: Should bargain offline because the seller will say a little challenge it.
Eating
Last but not least, what to eat in Hanoi Walking Street is always on top searching when coming here. Hanoi walking street seems like a paradise of food, there stands a myriad of sidewalk dishes available cannot miss. There are two most famous areas including: Hanoi Weekend market – for mostly skewers, tropical fruits; the rectangle of Ta Hien – Luong Ngoc Quyen – Dao Duy Tu – Hang Buom street for a night out with beer.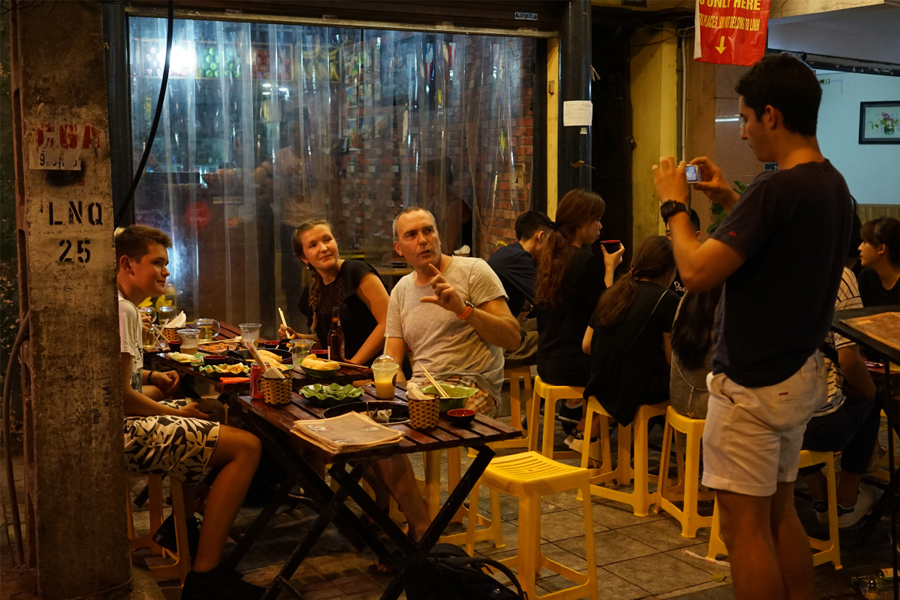 If you visit Vietnam, definitely spare your weekends in Hanoi. Let's stroll the walking street to experience the best of this city – its culture and people!