Buddhism is a very visible part of daily life in Cambodia, especially in Siem Reap where there are many pagodas in close proximity. If you want to understand more about Buddhism and Buddhist monks, then here are some pagodas you may wish to visit.
Depending on what time of day you visit, it's possible that the monks will welcome you and it's not unheard of to be invited to watch their chanting during a ceremony. Usually, Buddhist monks are really open-minded to other cultures and will be happy to tell you their life story or show you around at the pagoda. Many younger monks are very happy to talk to visitors to practice their English skills.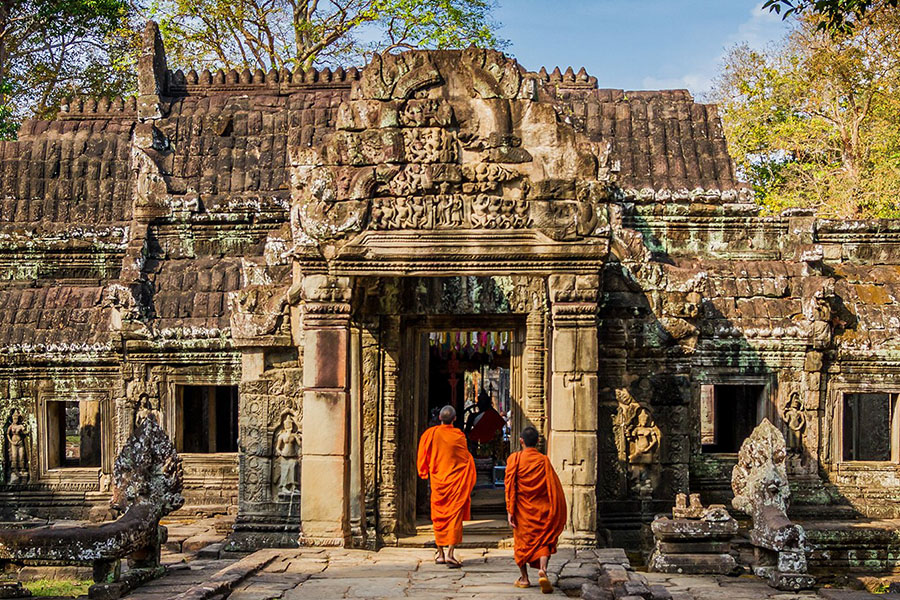 1. Wat Damnak Pagoda
Wat Damnak is the biggest pagoda in Siem Reap. Wat Damnak means palace, which it also was during the reign of King Sisowath. Many Buddhist Monks live in this pagoda. It is a well-known landmark on the eastern side of the Siem Reap River, close to the round about and behind the Siem Reap Art Center Market. Wat Damnak is a cultural hub, hosting a primary public school, Life and Hope Association, the Centre for Khmer Studies, which has an excellent resource library and it's also home to the annual Giant Puppet Project, which occurs during January/February each year.
Walk in and look around, the grounds are beautiful. It's okay to speak to the monks when you see them, don't be shy. Just be polite and they will be happy to show you around in their pagoda and to explain their living conditions. Most of them are well educated and will also be able to tell you more about the Buddhist rules and way of living.
2. Wat Preah Prom Rath Pagoda
Wat Preah Prom Rath is one of most beautiful pagodas in Siem Reap. It is located on the river side near the Old Market (Psar Chas). The monastery has many fine, colourful wall paintings and you will find many modern statues inside. Often, you will see monks in the early morning or late afternoon. They follow Buddhist courses and English classes in this pagoda.
It's unclear exactly when the pagoda was built, however, its claim to fame is the large reclining Buddha that was installed in the main temple (Preah Vihear) in 1500. There is a quaint fable about why the Buddha is there, so if you want to find out how a boat turns into a Buddha, go and take a look. In 1915 the main temple and monastery were extended, to include an academic building (University) and a library. Expansion continued until 1945.
3. Wat Thmei Pagoda
Wat Thmei is along one of the roads leading from Siem Reap to Angkor Wat, it's renowned as Siem Reap's Killing Fields from the Pol Pot era in Cambodia. This pagoda is worth visiting if you're interested in war history and won't make it to the popular Choeung Ek Killing Fields site near Phnom Penh. It may seem morbid to visit such sights, but it's also important that we remember history and appreciate the profound impact this particular period has on Cambodian people.
The thing that sets this pagoda apart from a typical pagoda in Cambodia is the glass sided monument filled with the bones of deceased Cambodians found by locals living in the area after the end of the Khmer Rouge genocide. There are a few photo boards, but to get a deeper understanding you may find it worth having a guide.
This memorial is modest compared to the relics you can see in Phnom Penh at Tuol Sleng (S21) Prison and Choeung Ek, however it is still an important memorial for local people in this area.
4. Wat Athvea Pagoda
Wat Athvea is located 6kms from Siem Reap town, down the river in the direction of Tonle Sap Lake. It is listed here as a good place to go for a water blessing or receive blessing bracelets from the monks. Whilst the monks at this pagoda don't speak a lot of English, they are very welcome to having foreign visitors to receive blessings. Equally, it's easy to arrive without prior arrangement and just wait your turn.
The wat itself is a 12th century Hindu temple, built in the same period as Angkor. The area where you go for blessings is the more recently built and modern pagoda that resides on the same grounds. If you venture to look at the wat, don't be surprised if you're asked to present an Angkor pass.
5. Angkor Wat
No visit to Cambodia is complete without a stop-off at mighty Angkor Wat in Siem Reap. Standing as the world's largest religious structure, the ancient capital city of the Khmer Empire, which ruled from the 9th to 15th century, is Cambodia's top draw, and it's easy to see why. The sprawling Hindu temple complex includes a pagoda, baths, a library and other crumbling structures. The many carvings that adorn the walls also tell stories of the way of life back then, with Angkor's design being an architectural feat for its time.