The sunrise in Phuket is very beautiful and it is worth to get up early. It is such a pleasure to watch the sun rising slowly from the sea surface and brightening the blue sky with its rays. You can take amazing photos with such background. In this article we will tell you about the most picturesque places where you can admire the sunrise in Phuket.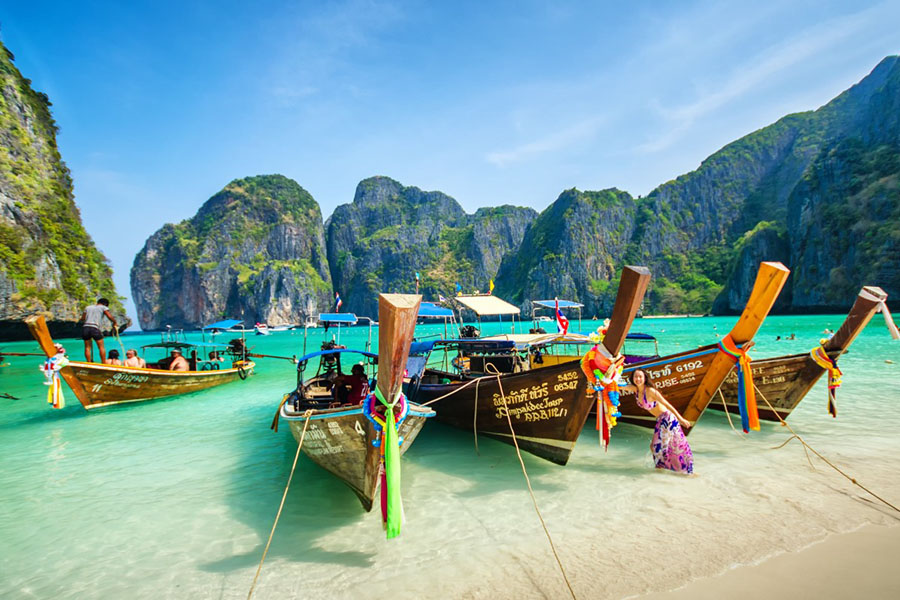 1. The Big Buddha Statue
A huge white statue of the Great Buddha is situated on the territory of the temple complex at Nakaked Mountain. You can admire the sunrise at the top of the mountain right at the foot of the Big Buddha Statue from several viewing platforms. From a height of 400 meters above sea level, you can enjoy a beautiful view of Chalong, Phuket Town and Penwa Peninsula and even Coral Island. While the sun is rising the view becomes even more fascinating.
You can watch the sunrise in a company of cute monkeys who live in the temple and like to get different treats from tourists. After the sun has risen, you can walk around the complex and make a wish here.
The entrance to the temple is free, but you need to wear suitable clothes that will cover your shoulders, chest and knees.
2. Promthep Cape
Promthep Cape is the furthest point of the southeastern part of Phuket. Wonderful palm trees, picturesque sunrises and sunsets made this place very popular among tourists. The Golden Jubilee Lighthouse is situated at the top of the cape.
You can also walk through the territory of the local temple of the god Brahma. The Thais say that the temple is surrounded by 1000 elephants. In fact, there are a lot of different statues of elephants: stone and wooden, large and small, but the exact number of them was never counted.
3. Naithon Beach
Naithon Beach is located in the northern side of the island and is considered to be the quietest among the popular beaches. The beach area is quite large (the length is about 1 km) and there are very few hotels here, so you can easily find a secluded place. It is very romantic to enjoy the sunrise sitting on the sandy shore of the sea.
4. Samet Nangshe Viewpoint
Another picturesque and secluded place to admire the sunset is a nearby island. For example, at the Similan Islands you can enjoy unique nature, soft white sand and clear water. Sunrises are fascinating here.
There is an excellent viewpoint platform Samet at the Phang Nga Island. Here you can watch as the rising sun brightens the peaks of the rocks, which look out of the sea surface. You can take colorful photos. The trip from Phuket to the island will take a little bit longer than an hour. On the island you can also go for a ride on a hanging rope or quad biking, play golf or shoot at the shooting range. You will have an unforgettable time.