Date: 1 – 2 June 2021
Venue: Sarawak (Malaysia) and West Kalimantan (Indonesia)
Gawai Dayak is an annual festival celebrated by the Dayak people in Sarawak, Malaysia and West Kalimantan, Indonesia a symbol of unity, aspiration and hope for the Dayak community. It is a thanksgiving day marking a bountiful harvest and a time to plan for the new farming season or other endeavours ahead.
At the festival day, everyone will be busy with general tidying up, grave visiting, paddy drying and milling, collecting and preparing food and final house decoration.
Before the festival, people will prepare the traditional liquor call tuak which is is brewed from the glutinous rice mixed with home-made yeast; traditional cake delicacies made from glutinous rice and they will also organise a hunting or fishing trip to gather wild meats and fish. Any wild animal parts like the horns, teeth and claws, and feathers are used to decorate and repair traditional costumes.
The longhouse will be cleaned, repaired and repainted by co-operation amongst its residents. Its inside walls are decorated with "ukir" murals portraying tree and wild animal motifs.
Men and women may wear traditional costume called "nigepan", especially when guests are arriving.
Celebrations begin on the evening of 31 May, every family will throw some unwanted article into the basket as a ceremony to cast away the spirit of greed. Offerings to the deities are placed at strategic spots ie the four corners of each family room for protection of souls, in the kitchen, at the rice jar, in the gallery, the tanju and the farm. After all the offering sets are completed, the chief of the festival thanks the gods for a good harvest, and asks for guidance, blessings and long life as he waves a cockerel over the offerings.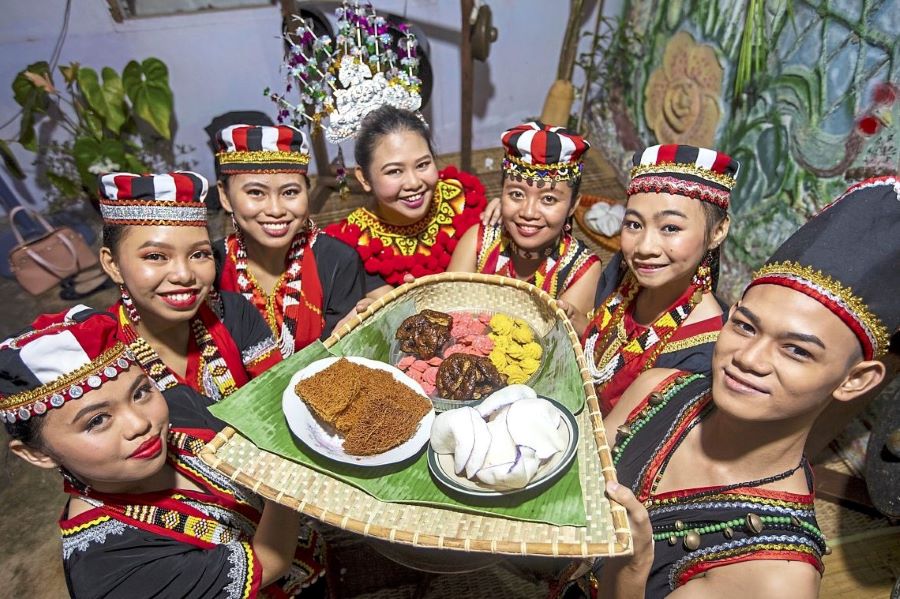 Once the offering ceremony is completed, the family sits down for dinner in the gallery of the longhouse. After dinner, performances like as ngajat dance, sword dance, self-defence martial art or singing traditional poems are performed.
On the first day of June, Dayak homes are opened to guests. This practice is called "ngabang". This will continue until the end of June where the gawai will be closed in a ngiling bidai (mat rolling up) ceremony.
To experience Gawai Dayak, the best time to visit Sarawak and Kalimantan is from the last week of May through the first week of June. For visitors who love adventure and like to experience gawai or life in the rural and remote villages and longhouses, some of these places provide accommodation or homestays.
How to get there?
Sarawak is well connected domestically and internationally. The largest gateway is Kuching, the state capital.
To West Kalimantan, there are frequent flights from Jakarta to Supadio Airport at Pontianak, its capital city and from other major cities of Indonesia. There are also international flights connected Pontianak with Kuching (Sarawak) and Kuala Lumpur.
For further information regarding to activities and tours in Sarawak and West Kalimantan, please contact our team.