Date: 21 April 2021
Location: Phu Tho province, Vietnam
The Hùng King Temple Festival is one of the biggest and the most important celebrations in homage to the ancient past in Vietnam held annualy from the 8th to 11th day of the 3rd lunar month. The main festival day, which is also a public holiday in Vietnam is on the 10th day. In 2012, the worship of the Hùng kings in Phu Tho was recognised by UNESCO as an Intangible Cultural Heritage of Humanity and the UNESCO page notes that this "tradition embodies spiritual solidarity and provides an occasion to acknowledge national origins and sources of Vietnamese cultural and moral identity".
According to the legend, the Dragon Lord Lạc Long Quân (living in the sea) and his consort Fairy Âu Cơ (living at the mountains) had produced a sac containing one hundred eggs from which one hundred sons emerged. The two separated with half of the sons following each parent. The most illustrious of the sons became the first Hùng king who ruled Van Lang and the realm of all the descendants of Dragon Lord and Fairy Âu Cơ became the Vietnamese people.
The purspose of this ceremony is to remember and pay tribute to the Hùng Kings who are considered as the traditional founders and first kings of the nation. During the ceremony, a huge crowd of several million people make the pilgrimage at Nghia Linh mountain, starting at the foot of the mountain, and stops at every small temple before reaching the highest temple.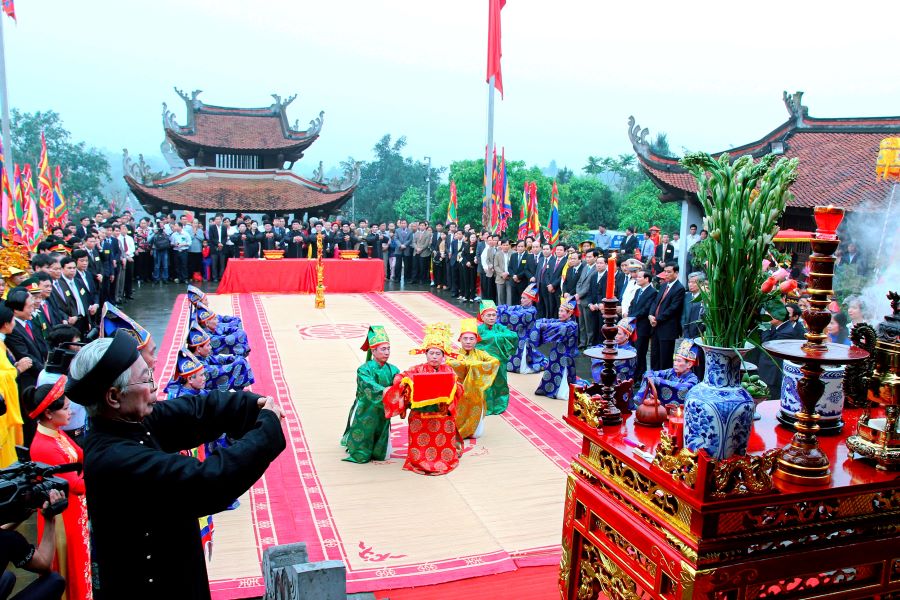 There are many food offerings, fruit and traditional dishes like as bánh giầy (glutinous rice dumpling) and bánh chưng (square sticky rice cake). During the festival, there are other activities like as music, rice cooking competitions, human chess, dragon dancing…
If you visit Vietnam during the Hùng King Temple Festival, you can join in different festivities and observe the strong connection that Vietnamese people have to their ancestors and origins.