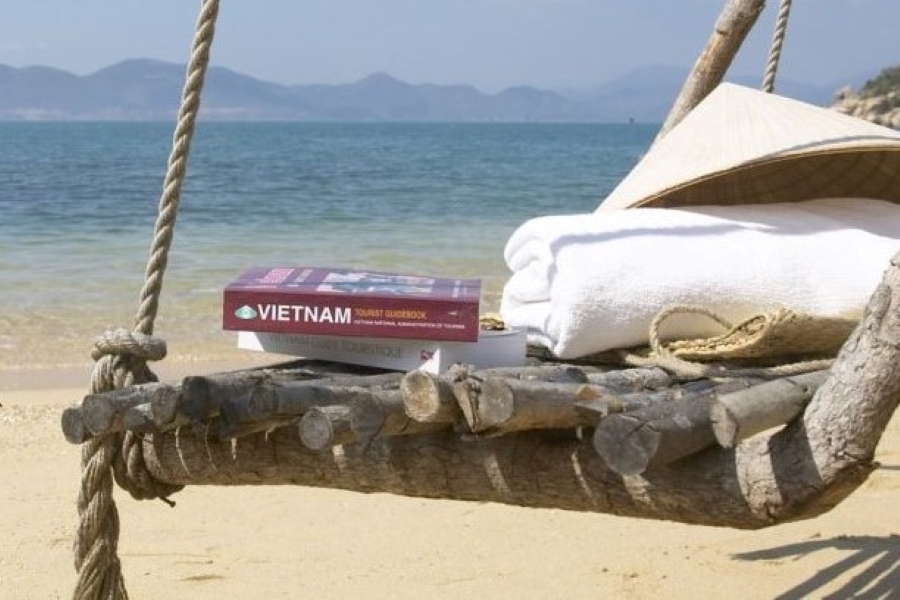 Boasting a wide range of natural wonders, historical and cultural heritage and attractive destinations, Vietnam is undoubtedly a haven for photography enthusiasts. From traditional architecture such as Temple of Literature in Hanoi, Hoi An Ancient Town, to the stunning UNESCO-listed Ha Long Bay and stepped rice terraces of Sapa have been an endless inspiration for photographers across the world. Here is a list of the 10 most photographed attractions in Vietnam, plus helpful tips and tricks for capturing these locales at their best.
1. Hanoi Roundabout
You can't talk about Vietnam without mentioning Hanoi – the capital city, which lies on the right bank of the Red River. This over a-thousand-year-old city is the only place in Vietnam which can offer you a breath of Vietnam's rich history as well as the energy of nowadays hustle modern life.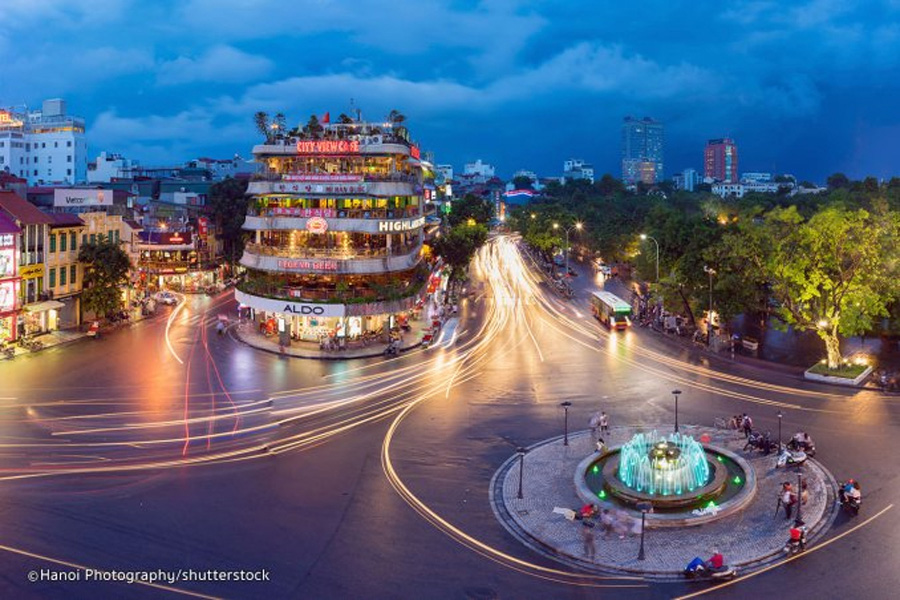 From sunset onwards, many photo enthusiasts come roundabout of Dinh Tien Hoang, Le Thai To and Hang Dao streets for Hanoi's frenetic pace and the most popular spot to capture its chaotic traffic situation is from Highland Coffees on the third floor of a building nearby. From here, the chaotic streets below are almost at touching distance thanks to the low level of the terrace. For those with a tripod (or very steady hand), a neat trick to get some interesting night shots is to shoot with a slow shutter speed, which results in colourful trail lights from the scooters and taxis on the roads.
2. Halong Bay
Halong Bay is one of the most spectacular natural wonders in Vietnam. Designated as a UNESCO World Heritage, Halong Bay is home to thousands of towering limestone karsts and grottoes. Formed by the wind and sun, the karsts are into stunning shapes, contain magnificent caves and picturesque lagoons that may only be reached by hidden cliff-face entrances revealed at low tide. The bay is best experienced on an overnight cruise allowing ample time to explore fishing villages and to enjoy swimming and kayaking. Surely you can visit the Bay anytime of the year, but the ideal would be to go during the summer (April and July) to capture amazing pictures as clear skies and majestic sunsets.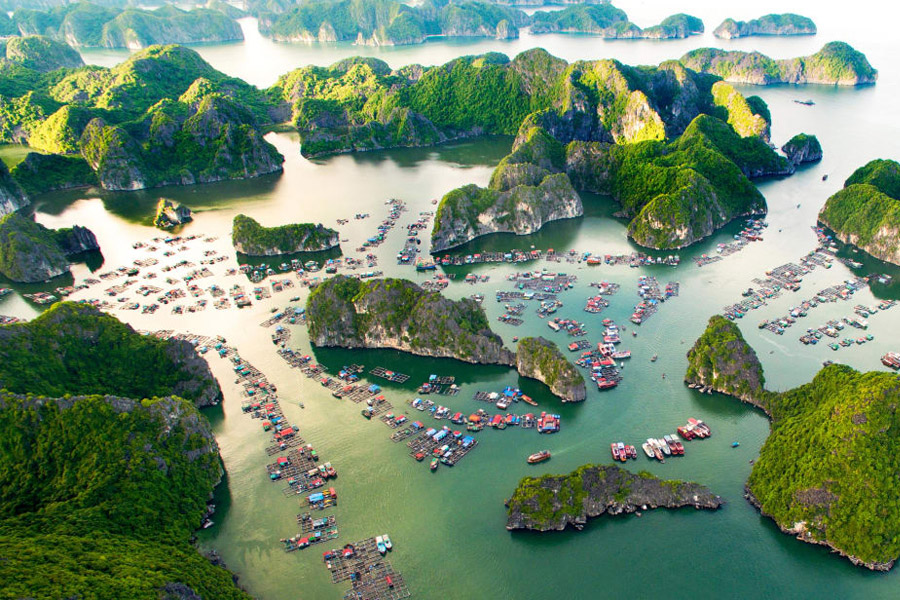 3. Sapa Rice Terraces
It's the dramatic site of the northwest Vietnam, Sapa is the next name to be called. Stunning scenery of verdant rice terraces are cultivated by ethnic minority peoples, that travelers rave about. The almost-vertical Sapa rice terraces are photogenic all year long but the best time to visit is between September and October as the cool climate allows for a comfortable day of trekking and photoshoots. We highly recommend shooting from Tram Ton Pass (about 15km from Sapa Town), as it offers the highest vantage point of Sapa rice terraces and surrounding villages .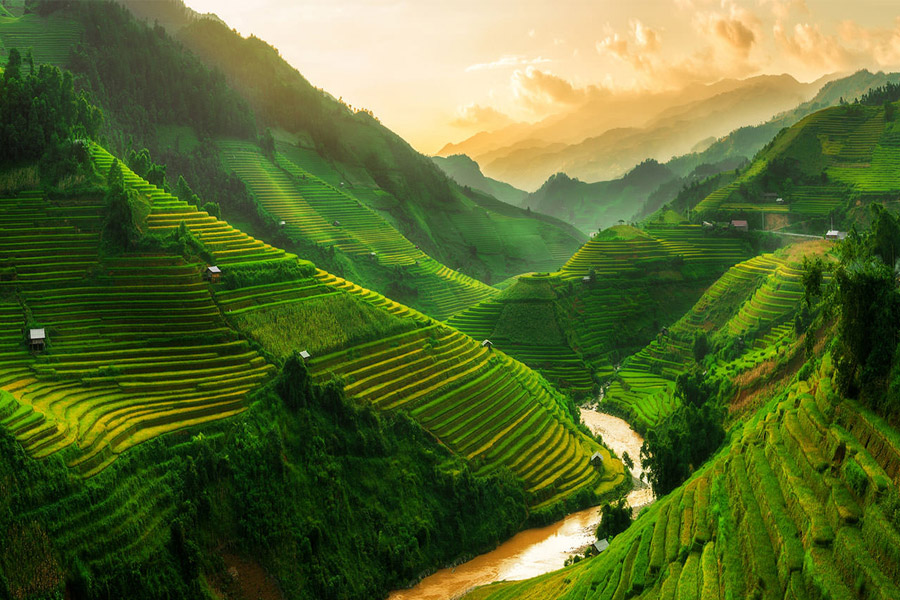 4. Phong Nha-Ke Bang National Park
A UNESCO World Heritage, Phong Nha-Ke Bang National Park is haven for photography enthusiasts. Located in northern Vietnam, the area is home to more than 300 caves, imposing karst mountains, jungle treks, and underground rivers that feel like they've been plucked from an eerie fairytale. It's here where you will find the storied Son Doong Cave, which has been named the largest cave system in the world. Be sure to carry a good low light camera to capture breathtaking shots of the caves.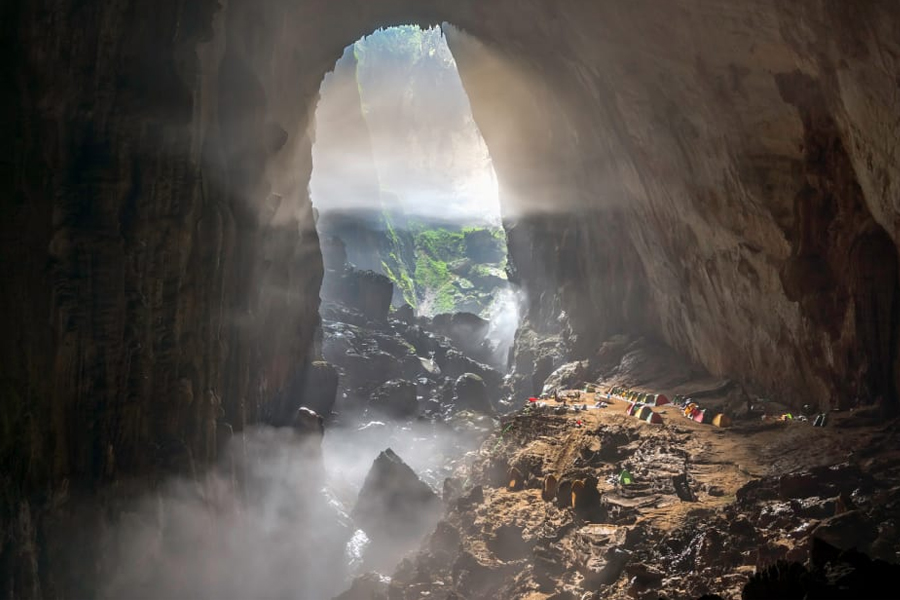 5. Golden Bridge Bana Hills in Da Nang

Made the whole world amazed by its magnificent architecture, Golden Bridge has received huge attention from passionate photographers. The bridge's beauty inspires the making of many breathtaking pictures and videos all round the year. It is on the top of a mountain in Ba Na Hills and is only accessible by cable car. If you desire to have the best shoot with fewer people on the bridge, then you'd better be on the first cable car at 7am and avoid the crowds on weekend.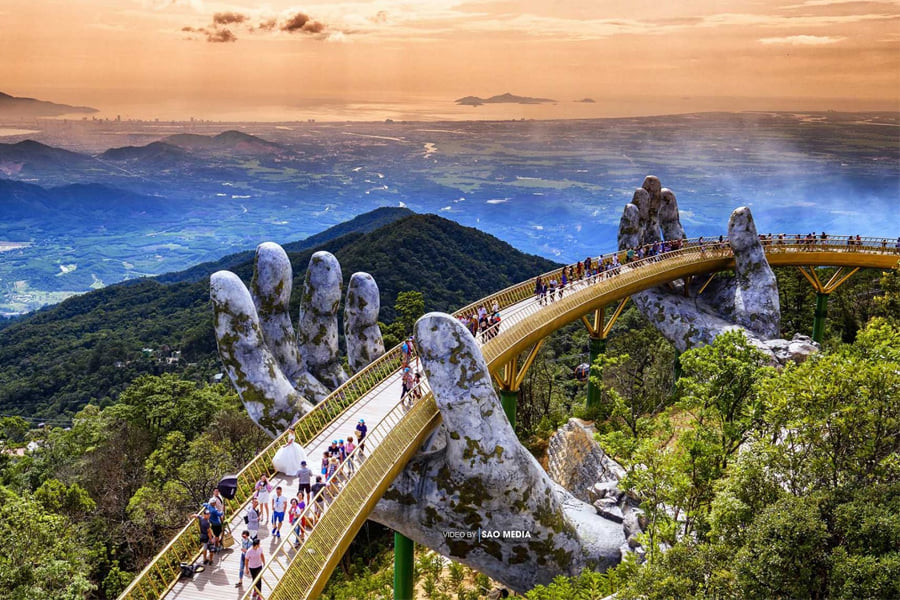 6. Hoian Ancient Town
As a former international trading port dating back to the 16th century, Hoi An today has transformed into one of Vietnam's most popular tourist destinations since earning recognition as a UNESCO World Heritage. The ochre-coloured shophouses with low, tiled rooftops and the narrow streets adorned with colourful lanterns have become emblematic of Hoi An. If your camera is able to shoot in low light, we highly recommend photographing the town during its monthly Lantern Festival. Electricity is switched off, while every shop is illuminated with candles and colourful paper lanterns all night long.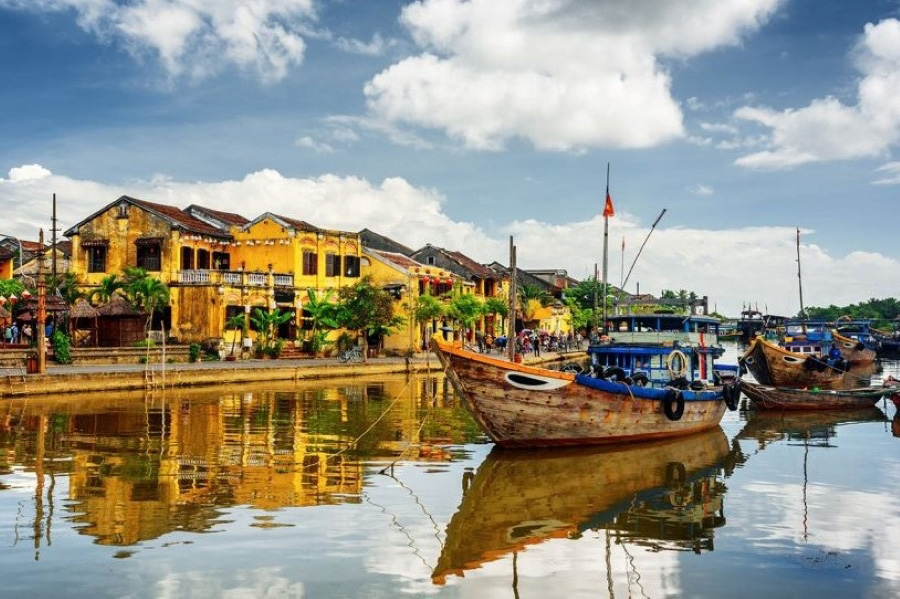 7. My Son Sanctuary My Son Sanctuary, a UNESCO World Heritage Site, is a cluster of abandoned Hindu temples constructed between the 4th and 17th centuries by the Kingdom of Champa. The impressive Hindu-themed ruins feature many beautiful stone sculptures, temples and towers in tropical jungle surroundings. The best time to visit is early in the morning before it gets too hot and when it is not too crowded.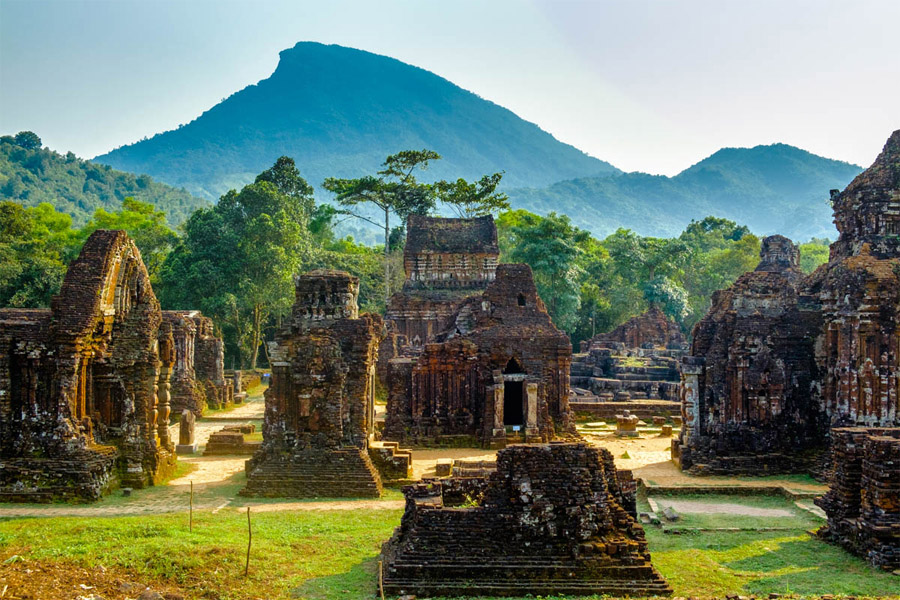 8. Hue
While imperial rule ended more than six decades ago, the central city of Hue still bears the marks of its royal past. From 1802 to 1945, Hue was home to 13 Nguyen emperors whose palaces and tombs provide a fascinating glimpse into the lavish, secretive world of the royal court. The best time to visit this UNESCO-listed site during the day, as you get to shoot Hue Imperial City's intricate sculptures, architecture, inscriptions, and tranquil ponds in great detail.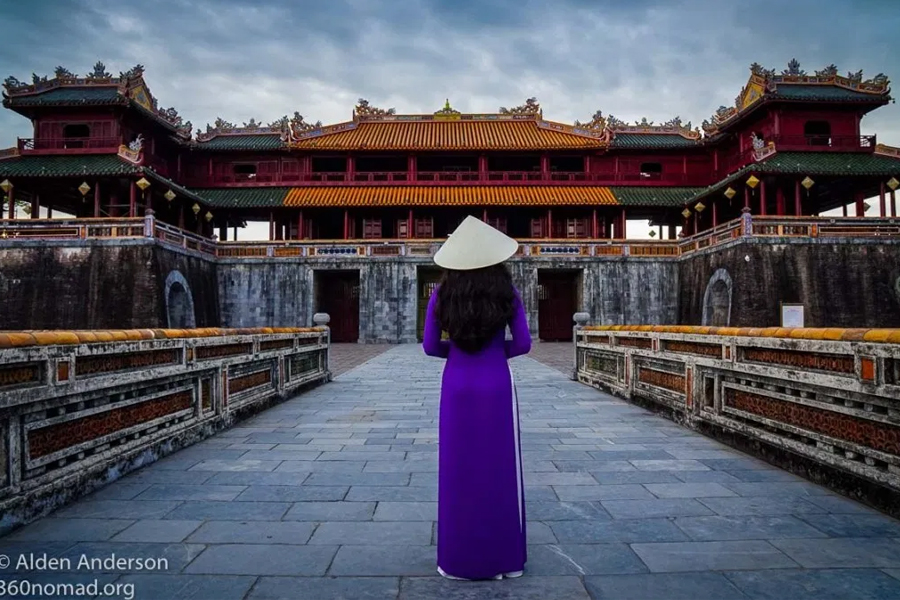 9. Sand Dunes in Mui Ne Vietnam really does have it all. Rice terraces, limestone mountains, ginormous caves, and now even sand dunes. Actually, there are sand dunes scattered throughout the whole region, making Mui Ne a rather colourful stop in your Vietnam itinerary. The two most impressive are the White and Red Sand Dunes. The best time to visit the Mui Ne Sand dunes is either early in the morning or late afternoon as it can get very hot during the day.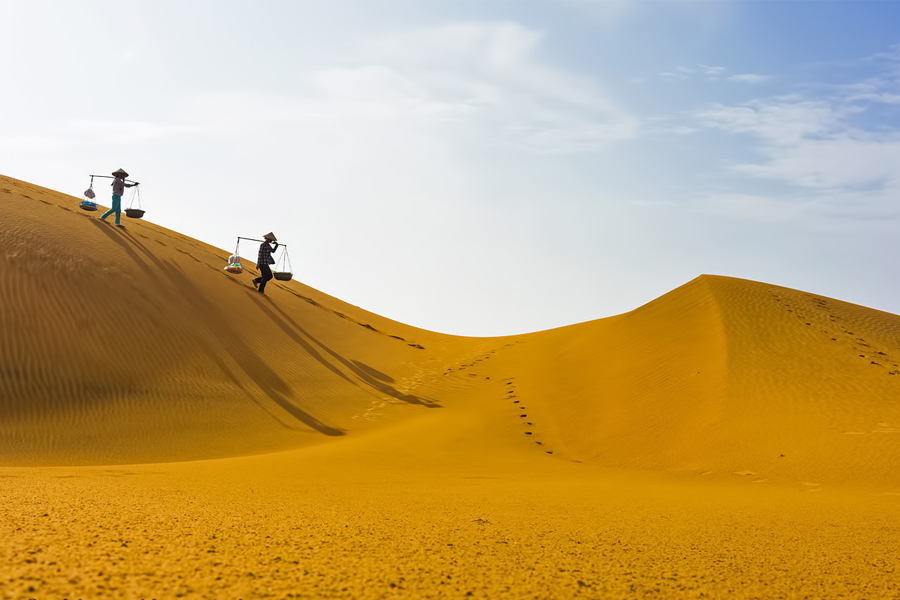 10. Cao Dai Temple
Cao Dai Temple (also known as Cao Dai Holy See) founded in 1926, is 100km northeast of Ho Chi Minh City. It is one of the syncretic Vietnamese religious movement that incorporates the aspects of Taoism, Catholicism, Confucianism as well as Buddhism. Open to the public, prayers are conducted four times daily (suspended during Tet). It's worth visiting during prayer sessions and but don't disturb the worshippers. The Cao Dai clergy have no objection to visitors photographing temple objects, but do not photograph people without their permission, which is seldom granted. However, it is possible to photograph the prayer sessions from the upstairs balcony.