It is undeniable that the beauty of Hanoi is hidden in each corner of the Old Quarter which can only be traced by walking through all the small alleys and busy streets. In other words, it is the wonderful architecture of the city that makes not only tourists but also locals deeply fall in love with Hanoi. One compelling way to absorb the capital's architecture is through its lovingly converted cafes. Take a look at the list and let go!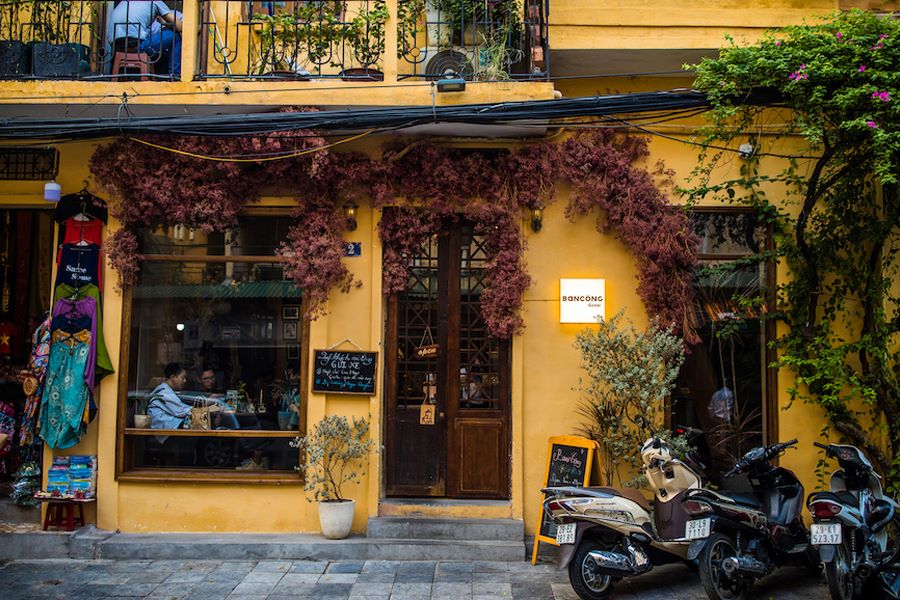 Loading T
Address: 2nd floor, 8 Chan Cam, Hoan Kiem, Hanoi (head up the stairs on the left)
Opening hours: 8:00 – 22:00 daily
Architecture lovers will appreciate the charmer of Loading T – an upstairs cafe converted from a room in a crumbling French-colonial house. The ornate tiled floor, vintage fans, huge window, mismatched period furniture and other design gems capture Hanoi's faded glamour. Classic style, French music sounds melodious, very suitable for nostalgic people, has music gout of the 80s and 90s. Homemade cakes, fresh juices and coconut or yoghurt coffee are on the menu. The egg coffee is the best, which the owners innovatively flavor with cinnamon. Many say that you'll find the best egg coffee at Giang Café Hanoi. We think you'll find it here.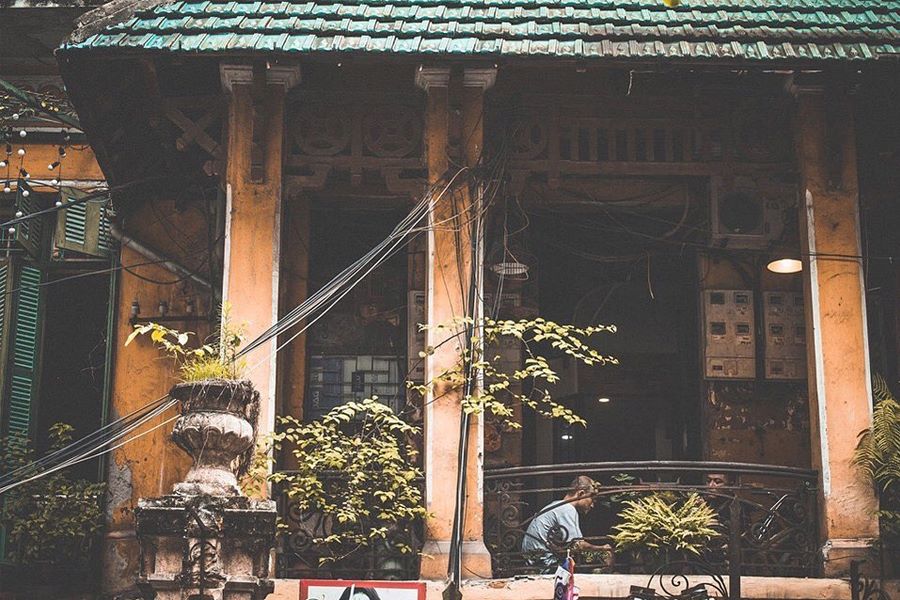 2. Hanoi House Cafe
Address: 2nd Floor, 47A Ly Quoc Su, Hang Trong, Hoan Kiem, Hanoi
Opening hours: 9:00 – 21:00 daily
Another hidden architectural gem, Hanoi House is a one-room café exemplifying French-style housing from the early 20th century. The ceiling is high to keep the space cool throughout the summer, and the now-unused fireplace warmed the house in the winter. Stylish Art Deco tiles blanket the floor and a small collection of antiques and art pieces have been delicately placed throughout. Go outside through the French wooden door and you'll find one of Hanoi's most intimate outdoor spaces. This tiny balcony isn't fancy or clean or even that comfortable- but it is a lovely space from which to look across at St Joseph's Cathedral.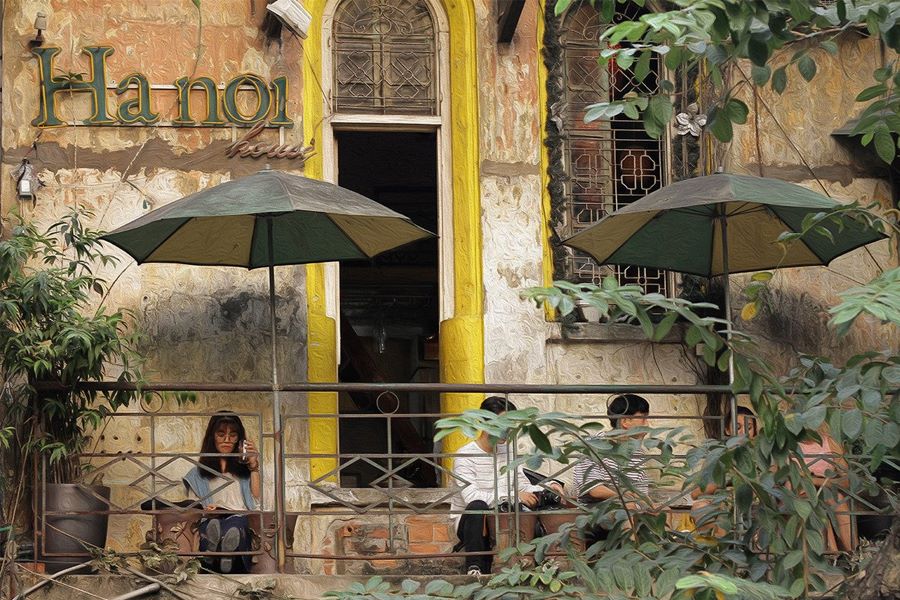 3. Bancông (Balcony Cafe)
Address: 2 Dinh Liet, Hang Dao, Hanoi
Opening hours: 07:00 – 23:00 daily
Balcony Cafe is located on a French mansion which is nearly a century old on Dinh Liet street – which is in walking distance from the original Hanoi Beer Corner. Designed in Art Deco style, Bancông is one of the must-visit cafes in Hanoi at the moment.The most special is probably the round doorway and the space sitting on the balcony facing the crowded Dinh Liet street! Encapsulated in a word to describe it is "lovely". The round door and the railing with the white lotus branches and colorful paintings adorn the nostalgic cafe.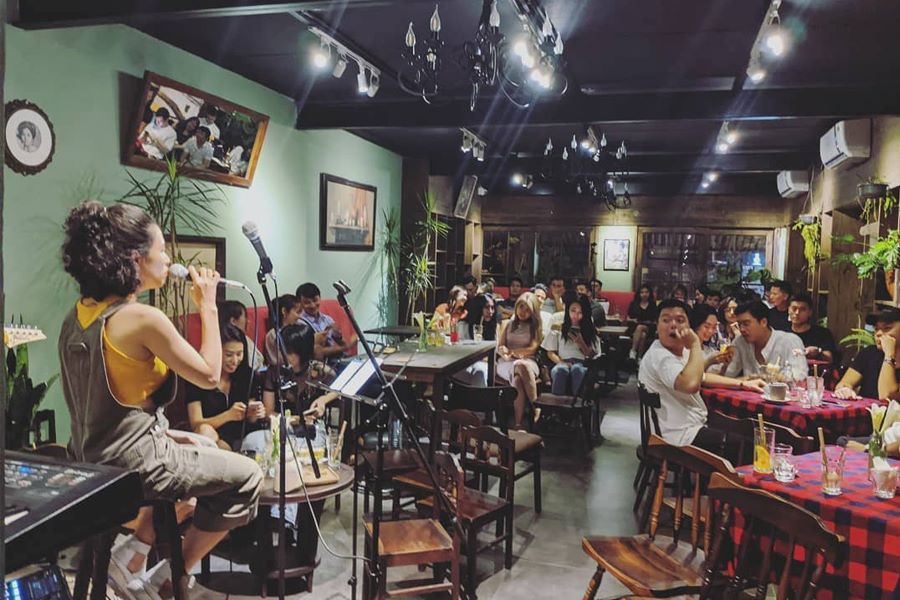 4. Manzi
Address: 14 Phan Huy Ich, Ba Dinh, Hanoi (half way between Hanoi Old Quarter & West Lake)
Opening hours: 8:00 – 22:30 daily
Manzi is a contemporary art gallery-cum-cafe with rotating exhibitions. The building is a rare example of a colonial-era detached house that's maintained its architectural integrity. The house stands almost exactly as it would have done a century ago, though the owners have tastefully white-washed the interior so visitors can focus on the exhibitions. This is an ideal place for you to read or work in the space of paintings and installations by young and leading Vietnamese artists. Opened by a group of Vietnamese art lovers, Manzi is one of Hanoi's most "bar" art spaces if you're looking for a bar nearby.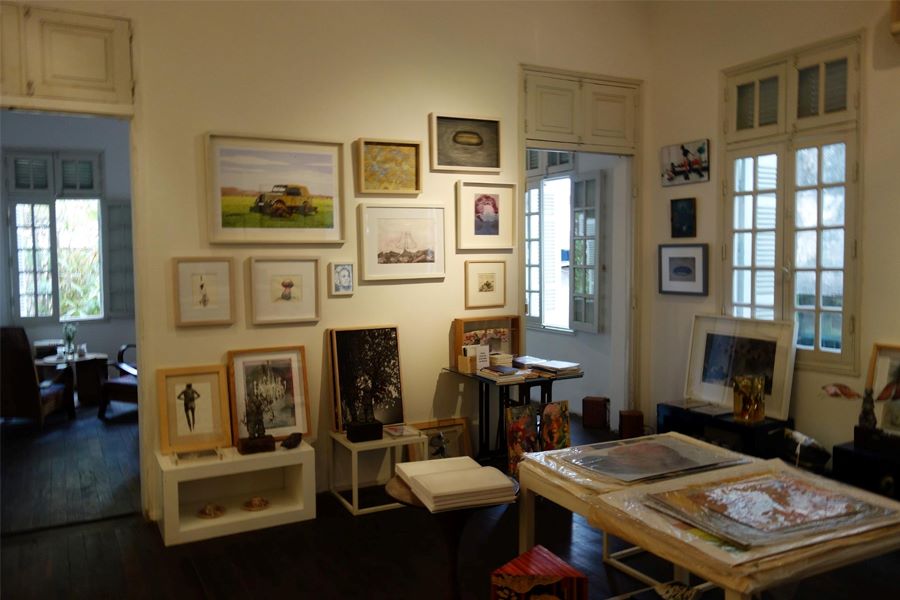 5. Cafe Duy Tri
Address: 43 Yen Phu, Tay Ho, Hanoi
Opening hours: 07:00 – 22:30 daily
In the same location since 1936, family-run Duy Tri still serves the finest coffee in the city along with incredible frozen yogurt in a typical Hanoi's tube house. This house has very narrow entrances – sometimes just two or three metres-wide – but it goes back far from the road. Just staying on the ground floor, you will be surrounded by the delicious scent of grinding coffee beans. Duy Tri Cafe has also been known to turn even the most adamant coffee haters. If coffee isn't your thing, you could order a glass of frozen yogurt as well, which can be equally as satisfying on a warm day.